Athlete Approved is reader supported. If you make a purchase through our links, we earn an affiliate commission, at no extra cost to you. We highly recommend all products and only promote items that are Athlete Approved.
Swimming is a sport that requires endurance, strength and discipline. While it is one of the best full body workouts, it can also be one of the most difficult workouts to stay motivated to keep your routine.
Swammers (aka retired competitive swimmers) often complain about how they have no time or energy for training because of work and other life responsibilities. This article will help you find ways to motivate yourself so you can stay on track with your swim workouts!
Find a workout partner or masters group to motivate you
Go to the pool with a workout in mind
Make an exercise playlist with songs that get you pumped up
Pack your swim bag and leave it by the door
Set up an appointment with yourself to go to the pool
Sign up for a swim meet or open water race
Find a Workout Partner or Masters Group to Motivate You
Swimming is an individual sport, but it does not have to be…
Do you find yourself getting bored and unmotivated during your swim? Have you ever wondered why swimmers train harder together?
It turns out that having a workout partner can be helpful in many ways. Having someone to swim with will push you along when the going gets tough! There is something about hearing your buddy's voice telling you "you got this!" after every set, keeping spirits high and energy up for everyone.
And if you can find yourself a masters group, that is even better. Master swimming teams are fun! There is a coach to write the workouts and other swimmers of all skill levels (or higher!) to swim alongside.
The best part about masters is that there's no pressure. During a masters workout, the times don't matter and everything is optional! It doesn't matter how fast somebody else goes so long as they enjoy themselves on top of having some good laughs with teammates along the way.
Do not let the "masters" name fool you. Trust us, you don't need to be a "master" swimmer or know how to do anything fancy like a cross-over turn or triple-lindy dive in order to join the group. If you just show up with an open mind and good attitude, you're on the team!
Motivation is one of the most important aspects of swimming, so it's no surprise that having someone to push you through that tough last set will make all the difference.
Go To The Pool With A Workout In Mind
Swimming is a great workout for your entire body and restorative for your mind. But if you go to the pool without a workout in mind, you may find yourself doing an easy 5 minute swim, then a soak in the hot tub.
We have a solution for you: here are 100 swimming workouts. Boom! #AthleteApproved
These workouts were created by Coach Roman Willets. He wrote these swim workouts for casual fitness swimmers, masters swimmers, and anyone looking for a great workout. They range 2,500 – 3,000 yards. Adjust up or down based on your level.
Or if you prefer to write something yourself… here is a guide on how to create your own swim workout plan!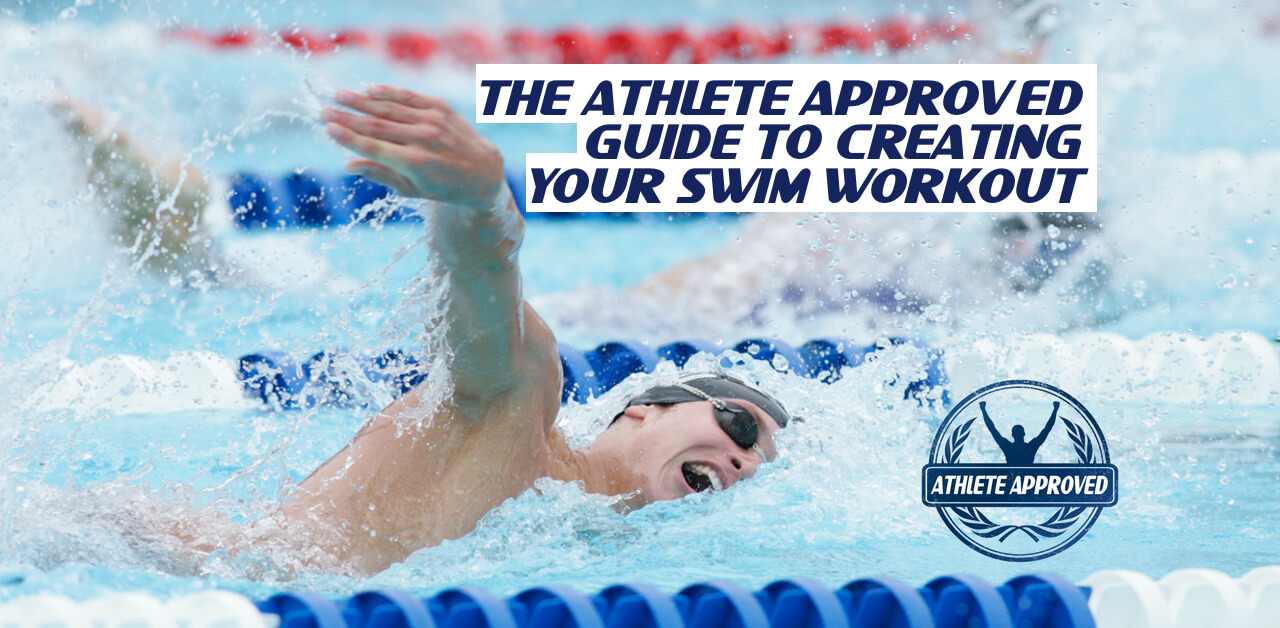 Be sure to show up at the pool prepared for your workout, either by bringing an Athlete Approved workout or mapping your own plan. You can't go wrong with either of these methods.
You'll never have a bad workout if you're prepared!
Make an Exercise Playlist with Songs that Get you Pumped Up
Music in the pool? Yes that is right. Pick up a pair of underwater headphones and jam out to your favorite tunes while crushing laps.
Music will do wonders for your swim workout. It has the ability to increase athletic performance, promote metabolic activity, and even lower your perceived pain threshold!
So whatever type of music you choose: classical, E.D.M., Rocky theme song… your tunes will keep you entertained for longer periods of time which in turn will lead to working out harder and longer than before!
Pack your Swim Bag and Leave it by the Door
Let's not make getting to the pool any harder. Pack your swim bag in advance and leave it near the door. This way all you have to do is grab it on your way out.
When packing up your bag, put in all your favorite equipment… Goggles, fins, paddles, and a snorkel should do. A small snack never hurt anyone either.
Make the actual swim workout the hardest part, not putting your swim bag together.
If you want to take it a step further, keep it in your car:
Good idea: pack a fresh swim bag for the car before your swim.
Bad idea: leave a wet swim bag in the car after your swim overnight.
While chlorine is less expensive than a car air freshener, only other swimmers will appreciate your pool scented air freshener.
Set Up an Appointment with Yourself to Go to the Pool (i.e., put it in your calendar)
We know that life can get busy with work and school. It can be difficult find time to go swimming. The problem is that you need to make time to take care of yourself. It's important, but it's not easy.
That's why we recommend setting up an appointment with yourself on your calendar – just like you would if you had a meeting or doctor's appointment – but instead you get to go swimming!
Feel free to label your swim as "conference call" in case you are using a shared work calendar.
Sign Up for a Swim Meet or Open Water Race
Go to the pool with purpose! If you have a swim meet to train for, you will have more reason to go to the pool.
Open water swim races are a nice change of pace for pool swimmers. Many of them are also charitable events, so you can get into swimming shape while also doing your part to save the dolphins!
Should you find yourself at a masters meet as a former competitive swimmer, do yourself a favor and don't check the scoreboard anticipating getting close to your old college/high school times. We are here for the fun of it now!
Conclusion on How to Motivate Yourself to Go to the Pool
The feeling of satisfaction that sets in once you've completed a tough swim workout is probably the best reward for any swimmer. At the same time, guilt and regret that comes with procrastinating on tackling your swim workout routine can be just as bad.
For more tips like this, check out our post on how to make lap swimming more fun.
Use these tips to stay motivated to get to the pool and the most out of your swim!