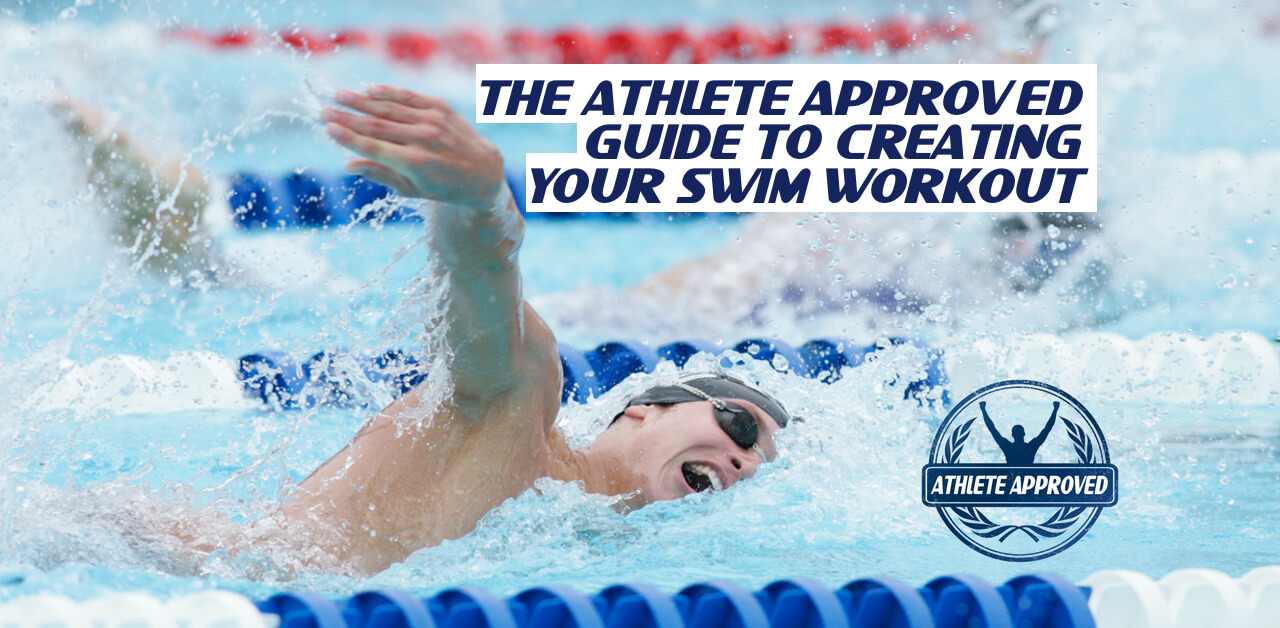 Athlete Approved is reader supported. If you make a purchase through our links, we earn an affiliate commission, at no extra cost to you. We highly recommend all products and only promote items that are Athlete Approved.
Swimming alone is hard! It is even harder to come up with challenging and fun workouts for yourself. If you are a masters or age group swimmer looking for ways to create great swimming workouts made for and by you, then read on…
There are countless great swim workouts posted on the internet. We are here to teach you how to create a swim workout plan in four steps, with some examples along the way.
Let's structure your workout for 3,000 yards. Adjust up or down to suit what you need. As a former DI swimmer, 3,000 yards used to be the warm up. Now that distance is just right! Here are the bones and four steps to creating a swim workout:
Warm Up: 1,000 yards
Preset 400 yards
Main Set 1,500 yards
Cool Down 100 yards
Warm Up with a 4-3-2-1
Start warm up with 400, 300, 200, 100. Just like that, you are already at 1,000 yards. We like doing:
400 Mixer: Alternate 50 Freestyle + 50 Backstroke.
300 Kick: Use a standard kickboard or alignment kickboard by Finis.
200 IM: Butterfly, Backstroke, Breaststroke, Freestyle. No shame to work in some one arm fly, this is warm up.
100 Build Freestyle: Get faster within the swim.
Preset
Use a preset next to get ready for the main set. This can be 400 yards of pulling, drills, or kicking. Or a combination of all three. After all, this is your workout.
A pulling set can use a pull buoy and/or paddles. Adding these training tools will help stretch you out, build upper body strength, and most importantly add some variation. You can have a breathing pattern: breathe on 3-5-7-5 by 50. Or mix in some backstroke. I would avoid breaststroke and butterfly with paddles.
Doing a drill focused preset is perfect for refining technique before you start the main set. 16 x 25's, 8 x 50's or 4 x 100's. Alternate the drill with swimming the stroke you are working on, while incorporating what you are learning. For example, if you are doing Set Up and Drive, do a lap of the drill, then a lap focusing on what you learned: swimming with great connection and extension.
A kick set can incorporate any type of kick. You can choose to use a kickboard. Or kick on your back, side, or front with no board. Adding fins will strengthen your leg muscles and increase your ankle flexibility. Ankle flexibility is key for fast kicking. Fins are also just a lot of fun and speed up your workout!
Athlete Approved Tip: Kicking butterfly on your back with fins is one of the best core workouts ever.
Main Set
We will teach you how to create five types of main sets:
Mixed Set
Aerobic Set
Sprint Set
Stroke Set
IM Set
In this article, each main set will be 1,500 yards. Adjust up or down to suit your swim workout plan.
Mixed Swimming Set
A mixed set is one of my favorites. It includes 300 yards of aerobic work and 200 yards of anaerobic work. We can do 3 rounds of 500 yards to equal a 1,500 yard main set. Pick an interval that is challenging, but also gives you some rest to recharge.
Mixed Swim Set Example:
1 x 300 Free Long
2 x 100 Free Fast
50 EZ
2 x 150 Free/Back/Free Long
4 x 50 Free Fast
50 EZ
3 x 100 Free Descending 1 – 3 (each swim gets a little faster)
8 x 25 Free Fast
Aerobic Swimming Set
An aerobic set should be structured by effort level. I like to use the threshold gear system created by legendary University of Michigan and Team USA swim coach Jon Urbanchek. Each gear correspond to effort levels.
This system was recently updated by Coach Jon from "colors" to "gears".
Gear 1 effort level has a heart rate of 120 – 130 beats per minute (about 20-22 beats per ten seconds). It is just touching into the aerobic effort level.
Gear 2 effort level has a heart rate of 130 – 140 beats per minute (about 23-25 beats per ten seconds). This will be slightly out of your comfort zone, but tolerable for a longer distance swim.
Gear 3 effort level has a heart rate of 150 – 170 beats per minute (about 26 – 29 beats per ten seconds). This is your max aerobic capacity. It is not considered sprinting, since you will do this effort level over a longer distance swim.
Break your workout into 3 rounds, one of each gear. Each round is made up of 500 yards, so the possibilities are endless here.
Aerobic Swim Set Example:
300 Gear 1
200 Gear 1
50 EZ
200 Gear 2
2 x 150 Gear 2
50 EZ
5 x 100 Gear 3
At the end of each round of 500 yards, take your heart rate to make sure you are on track. It is best to take your heart rate for 10 seconds referencing the gear system above. You should also note your time on each swim to track your progress. As you improve, your heart rate will remain the same, but the times will drop!
Sprint Swimming Set
A sprint set is going to have a lower distance per swim, more rest, and a very high intensity!
Here is a controversial statement: Everyone wants to be a sprinter… If you do a sprint set right, you will happily go back to the distance lane.
Sprint Swim Set Example:
8 rounds with each round on 4:00:
100 Fast from a dive
100 EZ
Stroke Swimming Set
In the swimming world, "stroke" means anything except freestyle. A fun stroke set can mix up stroke and freestyle. This set will hit aerobic and anaerobic capacities.
Stroke Swim Set Example:
We will make the stroke fast and the free smooth (not easy, but smooth!):
2 x 250 (50 stroke + 150 free + 50 stroke)
50 EZ
200 (50 stroke + 100 free + 50 stroke)
3 x 100 (25 stroke + 50 free + 25 stroke
50 EZ
4 x 75 (25 stroke + 25 free + 25 stroke)
4 x 50 (all stroke)
IM Swimming Set
IM sets are great to mix up different strokes and keeping your body fresh. The key for IM sets, especially for masters swimmers and young age group swimmers, is keeping your technique correct for butterfly. One way to do this is to work in FRIM (freestyle IM): free, back, breast, free.
IM Swim Set Example:
400 FRIM
100 IM
50 EZ
2 x 200 FRIM
100 IM
50 EZ
5 x 100 IM
5-4-3-2-1 Swimming Set
A 5-4-3-2-1 set is a nice way to mix in whatever you would like to do for your swim workout plan. It keeps it fresh and exciting. The first round is 500 yards, the second round is 400 yards, the third round is 300 yards, the fourth round is 200 yards, and the fifth round is 100 yards. There will be a 50 easy in between each round.
5-4-3-2-1 Swim Set Example:
5 x 100 Free Descend 1 – 5 (each swim gets faster)
50 EZ
2 x 200 FRIM
50 EZ
300 Pull
50 EZ
200 IM
50 EZ
100 Free
Cool Down
Finish up your swim workout plan with a cool down. It is important to go right into swimming down after finishing the final swim of the main set. This will slowly bring your heart rate down.
A cool down can be 100 – 200 yards. Try having perfect technique for cool down. Or flip on your back and relax with some double arm backstroke!
Conclusion on Creating Your Own Swim Workout Plan
Overall, there are many directions you can take a workout. The most important part is doing what feels right for you!
Here are two more great resources for swimmers and coaches: